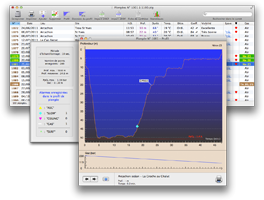 "Corail 1.0" is intended for confirmed or not divers with aqualung. It makes it possible to manage simultaneously several diving logbooks with a maximum of details on each immersion. The application makes it possible to graphically represent the profiles with the various alarms recorded during the diving (ascent speed too fast, dive with decompression, going beyond the depth ceiling, gas change...).
The diver can carry out the complete inventory of his equipment, recall the history of the equipment services and envisage the future operations of maintenance. The cost of the services or repairs can be consigned in the register "budget" which classifies the companies service provider according to their quality-price ratio. The list of wrecks forms a data base which gathers the principal characteristics of the buildings, the conditions of access (depth, G.P.S., land-marks), their interest as well as the history of the shipwreck. Mentioned are available and allow advanced divers to :
check their calculations at the time of the preparation of superoxygenated mixtures (Nitrox),
determine the equivalent narcotic depths (Trimix).
A converter of U.S. / metric units is added to the application.
This software is freeware it may be copied, distributed whether or not for commercial use. Requires Mac OS X 10.6 or later.
Features
- simultaneous management of several diving logbooks.
graph representation of diving profile and gas consumption.
statictics.
diving logbook export CSV (Semi-colon and comma) and TXT (Tabulation).
diving profiles export (CSV format).
diving logbook import / export UDCF (Universal Dive Computer Format).
diving logbook import UDDF (Universal Dive Data Format).
- Creation of a repertory of the wrecks.
- Creation of an inventory of the material. - Estimation of diving budget.
- Creation of an address book of the companies and dive centers.
- Nitrox :
Maximum operating depth (M.O.D.).
Equivalent air depth (E.A.D.).
Best mix.
Oxygen window.
Mix blending.
- Trimix :
Equivalent narcotic depth (E.N.D).
Hypoxic trimix.
- Converter of units US/metric (pressure, volume, length, mass, temperature).
What's new in this version ?